Mike's Ceviche
My brother in law's ono ceviche. A twist on the standard recipe, he uses lime, orange juices and kaffir leaves for a robust flavor.
Not rated yet
Rate Recipe!
| 0 people have saved this recipe
Prep Time: 20 minutes | Cook Time: | Ready In: Refrigerate 1-2 hours
1 lb. mahi mahi boneless filet, 1-inch cubes
1 lb. sea bass boneless filet, 1-inch cubes
1 lb. ono boneless filet, 1-inch pieces
2 c. fresh lime juice
¼ c. orange juice
¼ c. kaffir lime leaves
1 orange, 1/8-inch x 1-inch slices
1 medium red onion, thinly sliced
Garnish:1/2 bunch cilantro, stems and leaves, coarsely chopped
Order DD's Table Talk Cookbooks - Didi is one of the primary contributors to this site, if you love the recipes, you will love her cookbooks which is where many of the recipes come from.  She has worked as some of the top restaurant and caterers in Hawaii.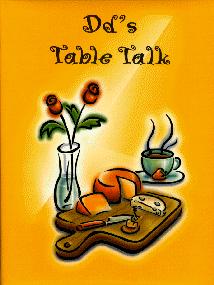 how to serve:
In a mixing bowl; toss fish cubes with fruit juices, kaffir lime, orange and onion. Refrigerate 1-2 hours; until fish is firm and opaque. Drain fish; discard liquid. For service; garnish with cilantro. Serves 10-12.