Tahitian Ceviche
An island version of a popular appetizer using fresh fish. This Tahitian Ceviche recipe is made using flavorful coconut milk.
Not rated yet
Rate Recipe!
| 1 people have saved this recipe
Prep Time: 10-15 minutes | Cook Time: | Ready In: Refrigerate 1-2 hours
2 lb. white fish boneless filet, 1-inch cubes
1 c. fresh lime juice
1 medium onion, thinly sliced
½ tsp. salt, as desired
1 c. coconut milk
4 stalks green onion, chopped
1 large tomato, chopped
Order DD's Table Talk Cookbooks - Didi is one of the primary contributors to this site, if you love the recipes, you will love her cookbooks which is where many of the recipes come from.  She has worked as some of the top restaurant and caterers in Hawaii.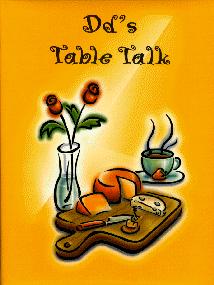 how to serve:
In a mixing bowl; toss fish cubes with lime juice and onion. Refrigerate 1-2 hours; until fish is firm and opaque. Drain fish; discard liquid. Return fish to mixing bowl; toss with salt, coconut milk, green onion and tomatoes. Serves 6-8.