Ginger Soy Roast Chicken w/Shiitake Mushrooms
This is perfect for a sunday dinner - roasted chicken, vegetables along with a few side dishes...  comfort...
Not rated yet
Rate Recipe!
| 2 people have saved this recipe
Prep Time: | Cook Time: 60+ minutes | Ready In: Brine 4+ hours
1 1/4 cups Aloha shoyu
1 cup firmly packed brown sugar
1/2 cup coarsely chopped fresh ginger
10 cloves garlic, peeled and crushed
1 chicken (6 to 8 lb.)
1/2 cup chopped fresh cilantro
1/4 cup cilantro sprigs, rinsed
Salt and pepper
1 cup chicken broth
1/4 cup rice vinegar
1/4 cup mirin
1 tablespoon sesame oil
2 pounds fresh shiitake mushrooms
1 bunch green onions
Order DD's Table Talk Cookbooks - Didi is one of the primary contributors to this site, if you love the recipes, you will love her cookbooks which is where many of the recipes come from.  She has worked as some of the top restaurant and caterers in Hawaii.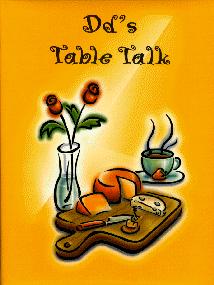 Cooking Process:
In a 10- to 12-quart pan, combine 1 cup soy sauce, brown sugar, 1/4 cup ginger, 6 cloves garlic, and 4 quarts water; mix well.
Remove giblets from chicken and reserve for other uses. Pull off and discard lumps of fat. Rinse bird well inside and out; pierce skin all over with a fork. Lay chicken breast down in brine; cover and chill at least 4 or up to 12 hours, turning bird several times.
Discard brine and rinse chicken thoroughly under cold running water, rubbing gently; pat dry. If desired, fold wing tips under first joint. Set bird breast up on a V-shaped rack in an 11- by 17-inch pan.
Starting at the neck, gently ease your fingers under skin to loosen it over breast. Push 1/4 cup chopped cilantro under skin and spread evenly over breast. Place cilantro sprigs in body cavity; add 2 tablespoons ginger and remaining 4 cloves garlic. Sprinkle chicken lightly with salt and pepper.
Roast in a 425° regular or convection oven for 30 minutes.
Meanwhile, in a large bowl, mix remaining 1/4 cup soy sauce, 2 tablespoons ginger, and 1/4 cup chopped cilantro with broth, vinegar, mirin and sesame oil. Rinse and drain shiitake mushrooms; trim and discard stems. Rinse and drain green onions; trim and discard ends. Cut off green tops and chop; also chop white bottoms. Mix mushrooms, chopped white parts of onions, and all but 1/2 cup chopped green tops with soy mixture. Lift out with a slotted spoon and distribute around chicken in pan; reserve soy mixture.
Continue to roast chicken, turning vegetables with a wide spatula after about 20 minutes, until a thermometer inserted through thickest part of breast to bone reaches 170°, or 180° through thickest part of thigh at joint, 3/4 to 1 1/4 hours longer.
Insert a carving fork into body cavity, piercing carcass; lift bird and tilt to drain juices into pan. Set chicken on a rimmed platter. With a slotted spoon, arrange vegetables around chicken. Let rest in a warm place about 15 minutes.
Meanwhile, skim and discard fat from pan. Add reserved soy mixture and stir often over high heat, scraping browned bits free, until reduced to 3/4 cup, about 10 to 12 minutes. Pour through a fine strainer into a small pitcher or bowl.
10. Sprinkle mushroom mixture with remaining 1/2 cup chopped green onion tops. Carve chicken and serve with vegetables and pan juices. Add salt and pepper to taste.